Commercial LED Lighting Installations, LED Upgrades and LED Retrofit Services Contractor in Florida
Florida Lighting Maintenance is Florida's Superior Full-Service Commercial Electrical Contractor that can handle your LED Lighting Installation, Upgrades and Retrofit Options for obtaining the best choices in LED Products and Options.
When you demand the area's best Commercial Electrical and Lighting Service, contact Florida Lighting Maintenance and "Click" "Tell Us About Your Project".
Florida Lighting Maintenance's experts are adept at helping our customers find the right LED lighting solutions.  LED lighting offers outstanding durability, low heat output, 5-10 times longer lamp life, savings from eliminating routine maintenance and periodic re-lamping and tremendous energy savings.  This lighting provides energy reductions of up to 70% over traditional lighting sources, and have a life expectancy up to 300,000 hours or an expected 30 year life.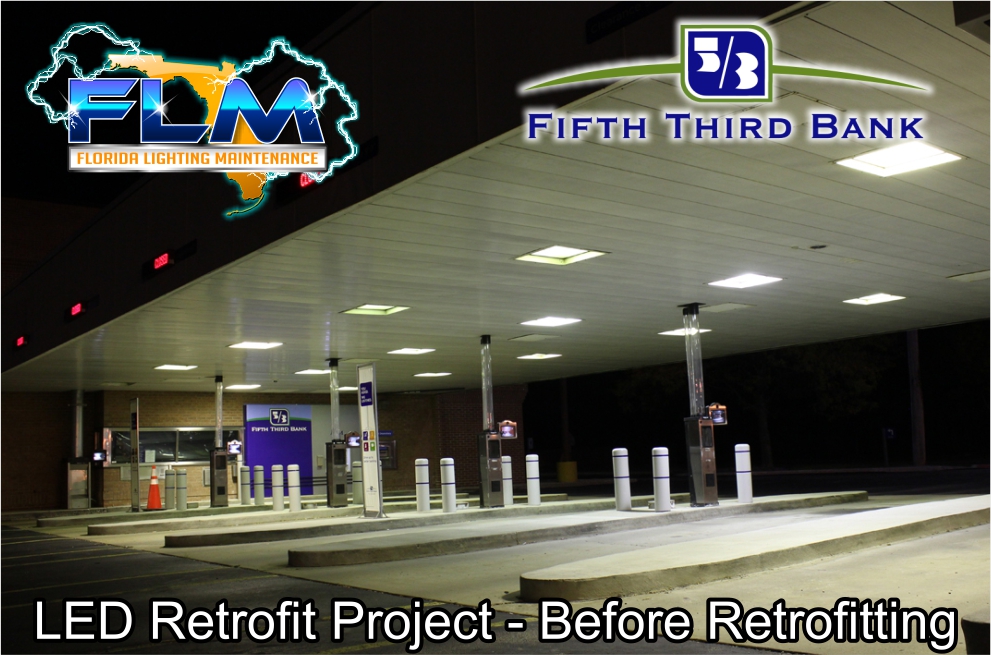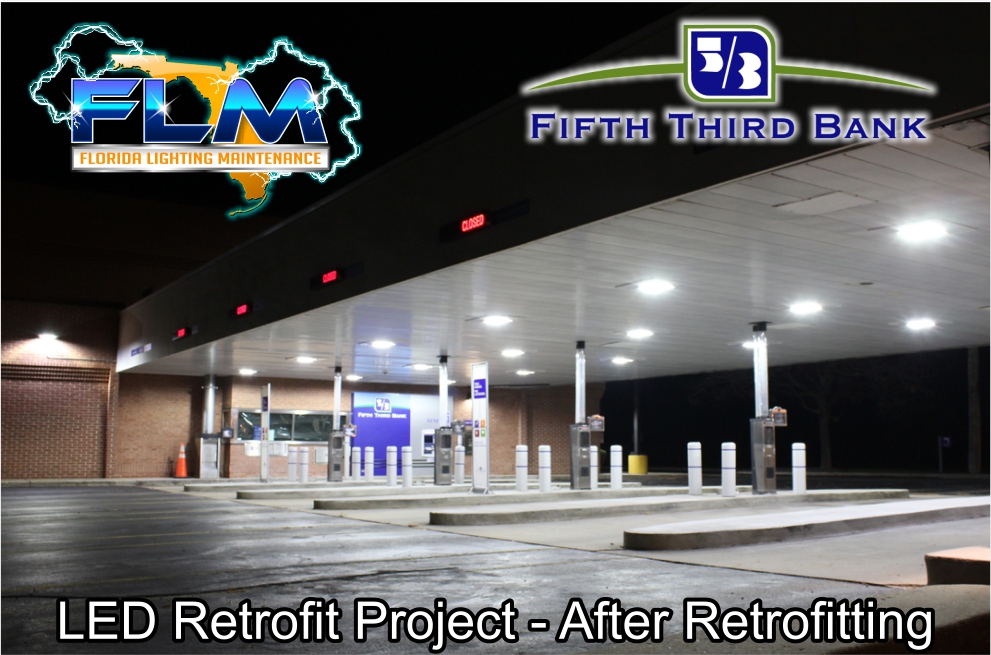 Our Florida Lighting Maintenance professionals can also assist you in finding the proper complimentary LED light fixtures for new installations.  You can be assured that all our fixtures will provide uniform light distribution along the face of the luminaries, offering aesthetically pleasing light that stops glare often found in retail and office buildings.  Check out our parking lot LED lighting products, as well as street lighting.  Your crucial walkways and roads will have maximized lighting and safety.  Contact Florida Lighting Maintenance Now! "Click" FREE ENERGY AUDIT.
For a FREE LED lighting estimate for your facility, call Florida Lighting Maintenance and speak to one of our customer service representatives.  They'll be able to tell you how these LED eco-friendly lighting fixtures are virtually maintenance free, have no mercury or require special handling, give a fast return on investment and can easily quality for rebate programs to reduce the initial out-of-pocket investment expense. 

LED Lighting Installation and Choices for the Best LED Options: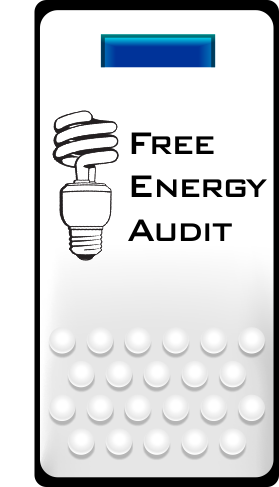 Florida Lighting Maintenance's lighting experts can replace inefficient fluorescent and HID lighting with LED lighting, which can reduce your energy costs by more than 70%.  Think of LED lighting as the eco-friendly investment of the future.  Save time and energy dollars tapping into this wonderful new lighting technology.  It all starts by scheduling an energy audit of your facility.  Call Florida Lighting Maintenance at (941) 342-8980.  This audit identifies your energy problems, accurately determines your energy numbers and gives resulting recommendations on a new lighting system.
Consider the benefits of installing LED lighting to your facility.  LED lights are very durable, produce low heat output, offer significant energy savings, have 5-10 times longer lamp life and provide less maintenance.  Florida Lighting Maintenance's lighting experts can change-out your old system with vibrant LED lighting with a life expectancy up to 300,000 hours.  Our customers are usually amazed at the short return on their investment by installing LED lighting.  We can help you navigate all the local, state and federal tax incentives and rebates that you may be eligible for.  Contact Florida Lighting Maintenance Now! "Click" FREE ENERGY AUDIT.
BIG ENERGY SAVINGS WITH 5 YEARS OF MAINTENANCE FREE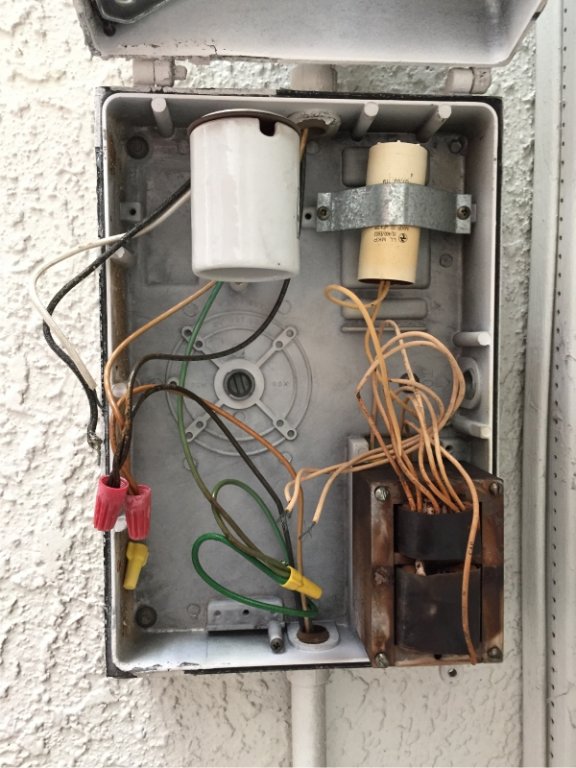 Here is a 175w Metal Halide wall pack. We removed the ballast kit and direct wired the power to the socket.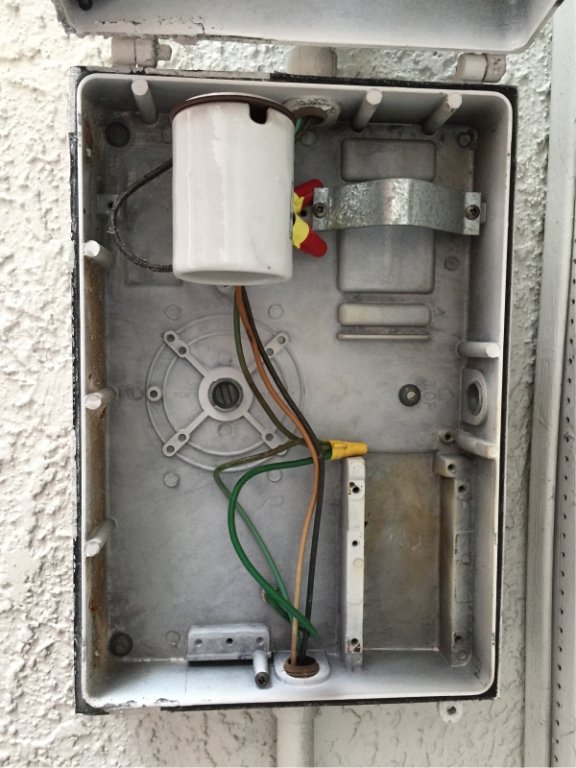 Next we installed a screw-in self-ballasted LED Lamp replacement.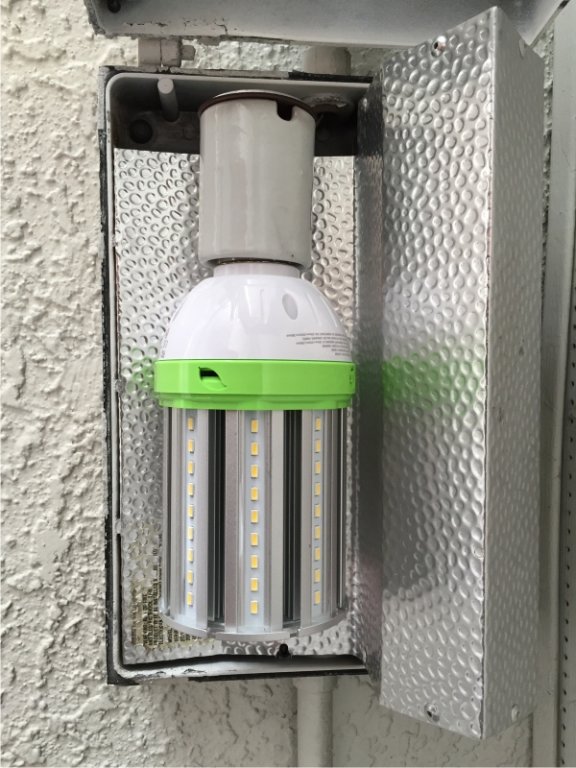 This LED Retrofit reduced the power consumption from 175W to 27w without losing any light.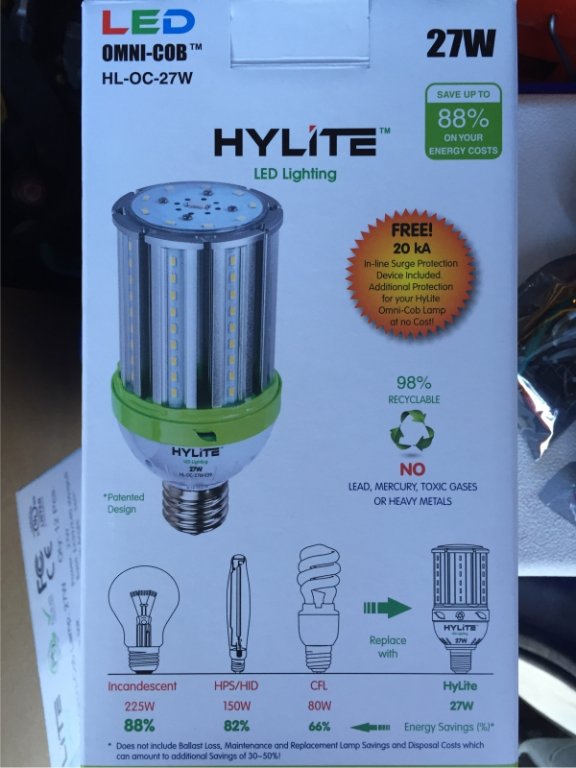 We Stock and Sell this 27w LED HyLite OMNI-COB HL-OC-27W
The technicians at Florida Lighting Maintenance will help you decide on the right LED lights for your facility.  Then our staff will expertly and precisely install your new LED lighting system, utilizing all the top-notch components to make it last virtually maintenance free for years to come.  Call us to speak to a customer service representative about how LED lighting can drastically improve your facility's lighting.
At Florida Lighting Maintenance, we offer many LED fixture types that all provide uniform light distribution across the luminaire span.  This results in giving you an aesthetically pleasing light in almost any building type.  Remember that LED lights last up to 50 times more than fluorescent lamps.  They are engineered to significantly reduce the need for any maintenance, and offer you energy savings to greatly improve your bottom line.
Florida Lighting Maintenance also installs LED street and sidewalk lights.  Just like interior LED lighting, our clients can expect to receive the same energy efficient and high quality light to improve the illumination of important roads and walkways.  Contact Florida Lighting Maintenance Now! "Click" FREE ENERGY AUDIT.  For a FREE estimate on LED lighting.

LED Lighting Upgrades:
We often hear from building managers, "there's no real reason to invest money in making my facility energy efficient."  Still, there are some very important things to consider.  Older lighting systems are on average 70% less efficient than LED lights.  Think of the energy dollars you could be saving by upgrading to LED lighting technology!  With significant longer life spans LED lights require virtually no maintenance, saving you even more money.  And, with tax incentives and rebates that are available, your return on investment is quicker than you may think.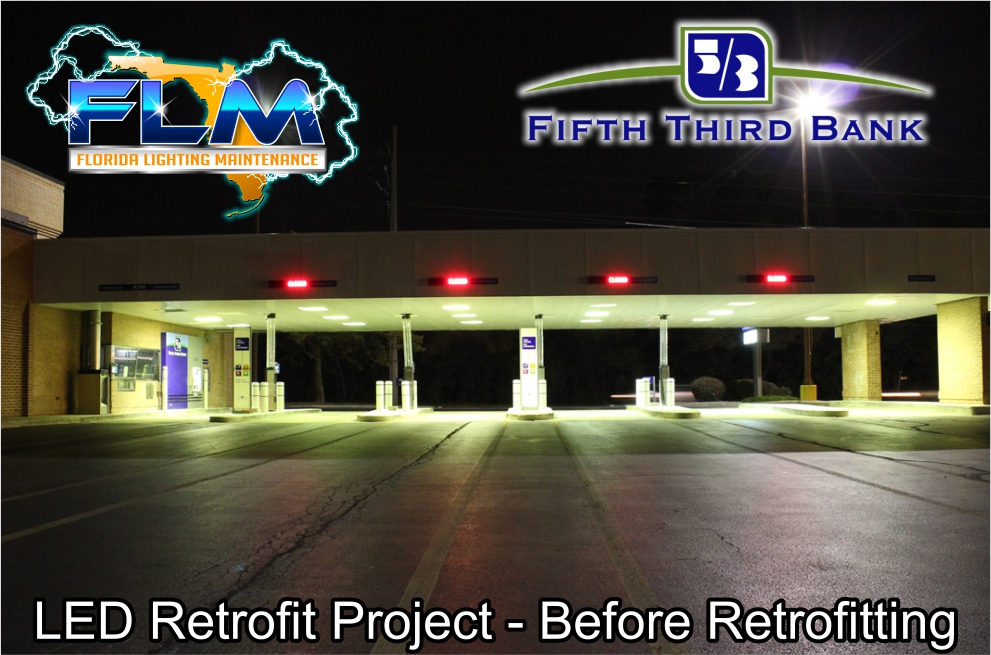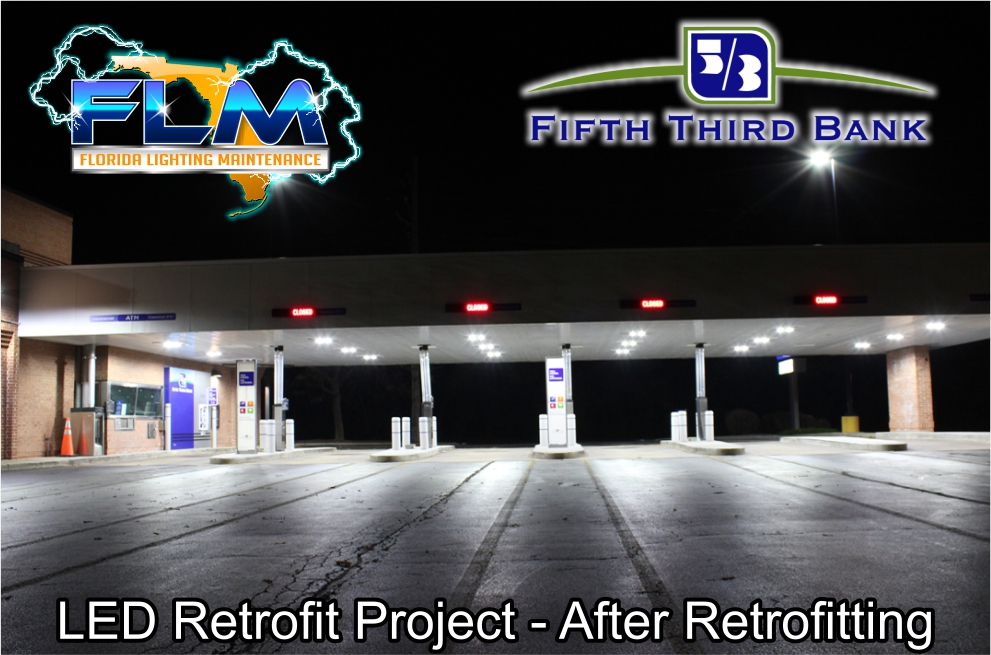 Florida Lighting Maintenance knows LED lighting!  By utilizing the lighting industry's best product manufacturers, you can be assured of getting the highest quality of equipment available.  Upgrading to LED lighting increases the energy efficiency of your building, thus improving its value.  Statistics have revealed that on average every dollar spent on energy efficiency improvements, raises the appraised value of a building several times.  Also, by upgrading to LED lights you'll become a "green friendly" facility, more and more important in this age of environmental concerns. 

LED Lighting Retrofit Kits and the Best Solutions:
The experts at Florida Lighting Maintenance conduct each retrofit with the skill, equipment and products you'd expect from the central Florida area's finest commercial lighting business.  The process of doing an LED light retrofit is essentially removing your older lighting system with high-tech LED bulbs utilizing individual power supplies.  A semiconductor device on the LED allows the light to operate between 5 and 24 volts.  The power supply converts the normal high voltage (85 volt to 266 volt) electrical charge, to something which is significantly lower.  This allows you to use LEDs just about anywhere without major wiring changes.  Old type ballast used for fluorescent and other high pressure lamps have to raise the voltage to get the lights to work. 
Florida Lighting Maintenance more-and more notes that energy conscious businesses are tremendously excited about retrofitting to LED technology.  They like getting energy savings, virtually eliminating the need for replacement bulbs, significantly longer life spans and the reduction of hazardous gases found in florescent bulbs (such as mercury) creating an environmental hazard.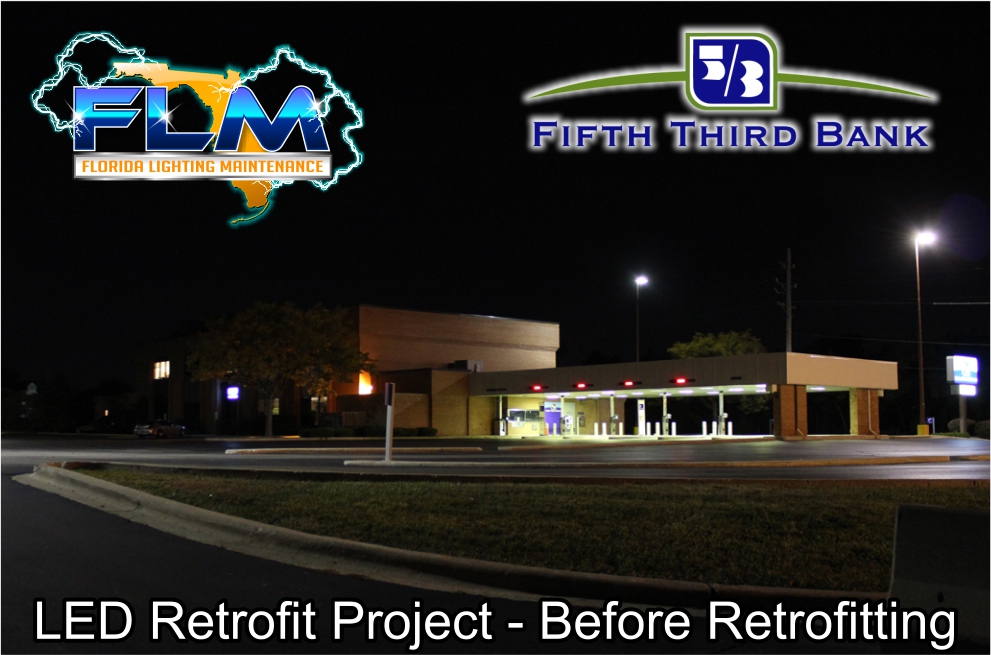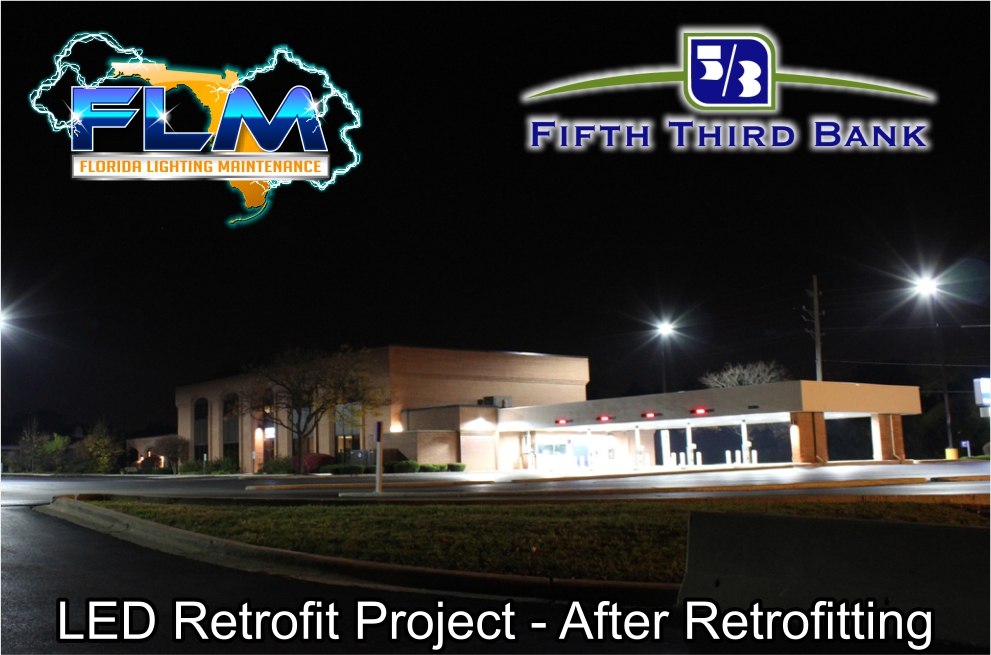 By retrofitting to efficient LED lights you will produce energy cost savings every month, immediately.  The positive payback time is the quickest in the alternative energy industry.  LED lighting products are BRIGHT!  They have a very high lumen output, which produces an extremely well lit and comfortable building.  Your employees and customers can expect a space that is 20-30% brighter than pre-retrofit. Contact Florida Lighting Maintenance for a FREE estimate on LED lighting Contact Florida Lighting Maintenance Now! "Click" FREE ENERGY AUDIT.
Florida Lighting Maintenance
Call us Now! (941) 342-8980