Florida Residential Electrical and Lighting Maintenance Services
Florida Lighting Maintenance is Florida's Superior Full-Service Residential Electrical Contractor that many trust to handle a whole host of electrical installation, repair, maintenance and lighting electrical needs.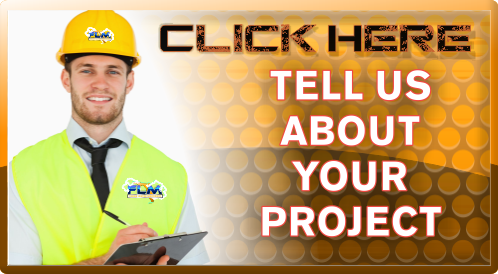 For all your full-service residential electrical and lighting maintenance services contractor in Florida, contact Florida Lighting Maintenance's Residential Electrical and Lighting Services at (941) 342-8980 for a FREE estimate on any of your home electrical or lighting needs. From repair expertise to electrical component installation, Florida Lighting Maintenance Residential Electric has the experience, skills, and customer friendly technicians to handle any residential project!
Residential Electrical and Lighting Discount Services
Our crews are non-commissioned licensed and insured electricians, simply fixing what needs to be fixed. Ask about (up to) $500 discounts on certain residential electrical and lighting projects. We also offer 24/7 residential electrical and lighting emergency services to quickly respond to any crisis.
Residential Kitchen Electrical and Lighting Services
Our Florida Lighting Maintenance Residential Electric experts are thoroughly trained and licensed to solve your most difficult residential electrical issues. Maybe you've thought about under cabinet lighting to brighten up your kitchen countertops and overall kitchen appeal?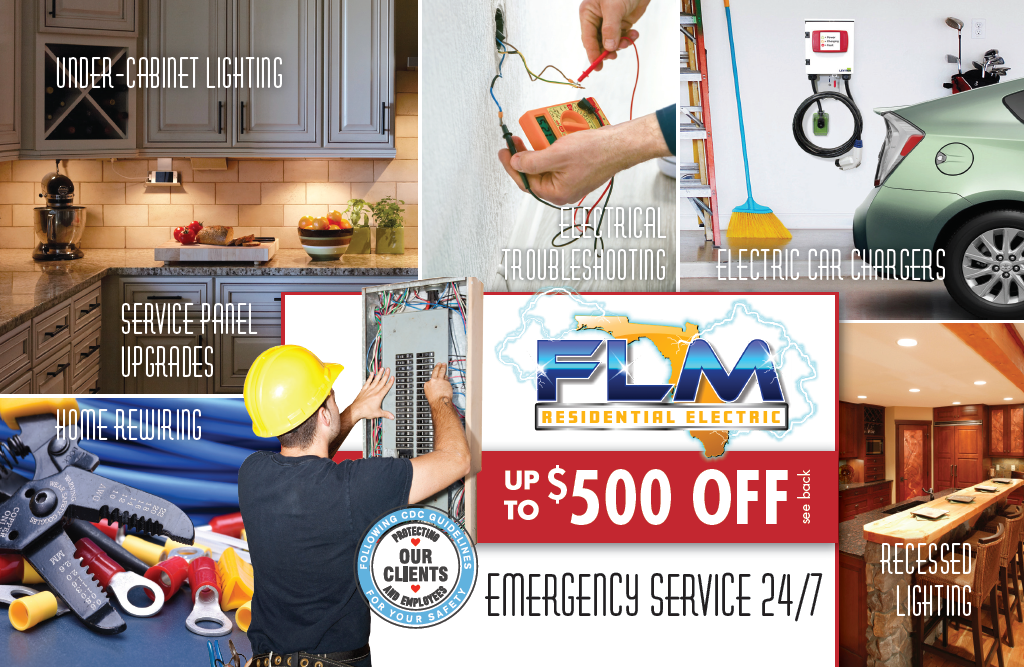 Residential Electrical Panel Services and Complete Rewiring Services
Perhaps your home still has the original service panel and now needs an upgrade for better appliance and systems management. If a complete home rewiring is needed for better performance and safety, we've got that covered too! Are there issues in your home's electrical system that won't go away?
Residential Electrical Troubleshooting and Charging Services
Ask about our electrical troubleshooting to identify reoccurring difficult electrical problems. Maybe you need to have electric car chargers installed? Our technicians can get them operating fast and efficiently! Attractive recessed lighting in your home makes rooms feel bigger unlike hanging fixtures that take up visual space. Our experts can help you choose and install the right recessed lighting solutions.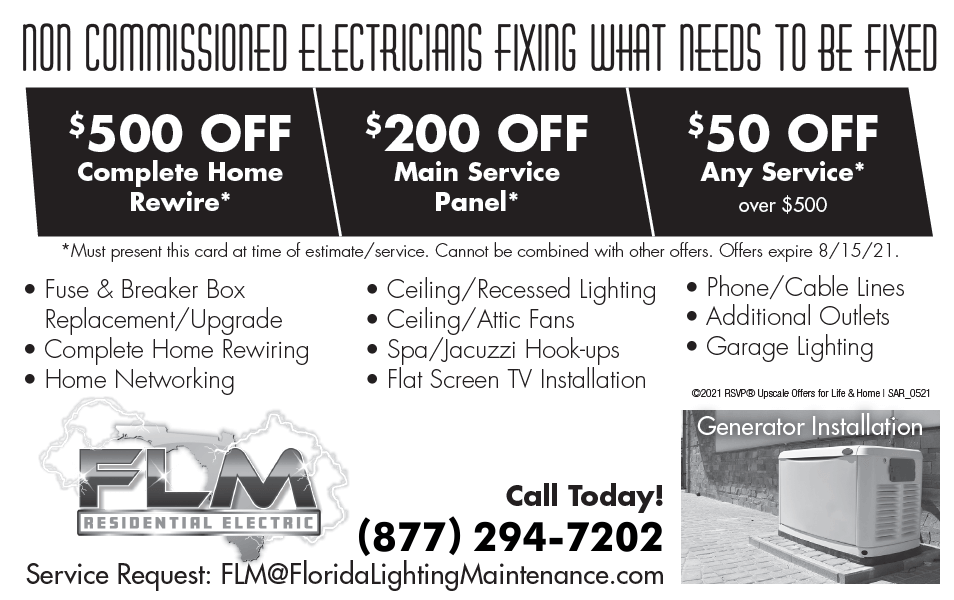 ---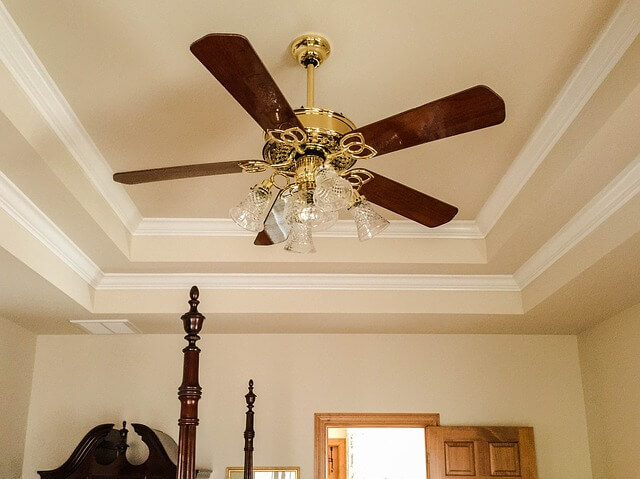 Florida Lighting Maintenance's Residential Electric pros have Electrical Services for:
Fuse & breaker box Replacement/Upgrade
Complete home rewiring
Home networking
Ceiling/recessed lighting
Ceiling/attic fans
Spa/Jacuzzi hook-ups
Flat screen TV installation
phone/cable lines
Additional Outlets
Garage lighting
---
Residential Fuse & Breaker Box Replacement/Upgrade Services
Homeowners are advised to make regular checks to their electrical panels, even if they haven't needed any repairs. Our Florida Lighting Maintenance Residential Electric experts can check for indications of rust or scorching that indicate an underlying problem to the system. In addition to regular checks, they can make recommendations on when it's necessary to upgrade your breaker box to a more modern system.
All electrical contractors recommend that residential electrical panels need to be upgraded from time to time to handle the new demands of your home electrical and lighting needs.
The main reason for upgrading is that an older breaker box doesn't have the capacity to deal with modern appliances and devices. For instance, new appliances such as a hot tub or air conditioner may be too much for an older electric panel. The result could be that your circuit breakers will keep tripping. Florida Lighting Maintenance's Residential Electric technicians recommend that all homeowners consider upgrading to electric panels having circuit breakers. Circuit breakers are a more modern version of older fuses. They can be fire hazards because fuses work by melting when the current is too high.
Just like fuse boxes, many electrical panels were not designed for modern electrical usage. Because of constant laptop and phone charging, multiple televisions in a house, and other gadgets, there's more electricity demand than there was twenty years ago. If you find you're using power strips and extension cords in your home, these are indications that more electricity is being used than your home was designed for. It may be time to upgrade your electric panel. Call Florida Lighting Maintenance Residential Electric at (941) 342-8980 for a FREE estimate on any of your home electrical needs. Or, Click Here to leave us a message describing your needs.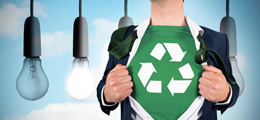 Complete Residential Home Electrical and Lighting Rewiring Services
Homeowners having older houses sometimes don't recognize the warning signs of potential electrical problems hiding in their wiring. Florida Lighting Maintenance Residential Electric's professionals recognize hazards created in older home wiring. About one-third of the house fires in the US are caused by this problem. In fact, homes built 50 years ago are at much higher risk of electrical fires. If you have an older home, it may be time to have our crews check your electrical system for a possible rewire.
A few decades ago, household typically plugged in a television, a few kitchen and laundry appliances, a few lamps, and a radio or two. Today there are multiple chargers, computers, tablets, televisions, and gaming systems. Under-performing electrical panels and wiring are no equal to today's modern conveniences. New wiring is most likely needed if you have these issues:
Flickering lights in your home
Black singe marks on the visible area of a plug
Smells like something is burning. This may be a sign that the wiring is shorting inside the wall. Either one of these conditions calls for immediate contacting of your fire department, and then our electricians.
If you have a house built between 1965 to 1973, millions of homes were electrified with aluminum wiring. Aluminum wiring was found to cause an even greater risk of house fire. If you have this kind of wiring call Florida Lighting Maintenance Residential Electric's experts to run an inspection and to consider your options.
Ask about our $500 coupon towards upgrading to all new electrical wiring.
Residential Home Networking Services
Home networking is important since so many of our devices won't operate properly unless they're networked to communicate efficiently with each other. Our Florida Lighting Maintenance Residential Electric technicians will provide our clients with smoothly running home networks. They'll come to your home and check out all your devices and setup the perfect home network. If you need product advice, we have that too!
Florida Lighting Maintenance's Residential Electric has the expertise from modern/router installation to WI-FI. We'll ensure that your home network extends to every corner of your home. No more frustrating "black spots" in your garage or basement. We have expertise in providing WI-FI booster installation and WI-FI connection troubleshooting. If you have WI-FI connectivity problems that are constantly reoccurring, contact our technicians at (941) 342-8980 for a FREE consultation and help.
We offer other Residential Home Networking solutions such as software allowing you to access your home computer from anywhere, transferring smartphone screens to televisions, being able to share files/media/data on your home devices, printing documents from anywhere in your home, being able to integrate a smartphone/tablet/game console to take total advantage of their online potential, and home network setup, repairs. and security. Florida Lighting Maintenance Residential Electric will get you the most reliable internet connection and confidence that your devices are working totally together!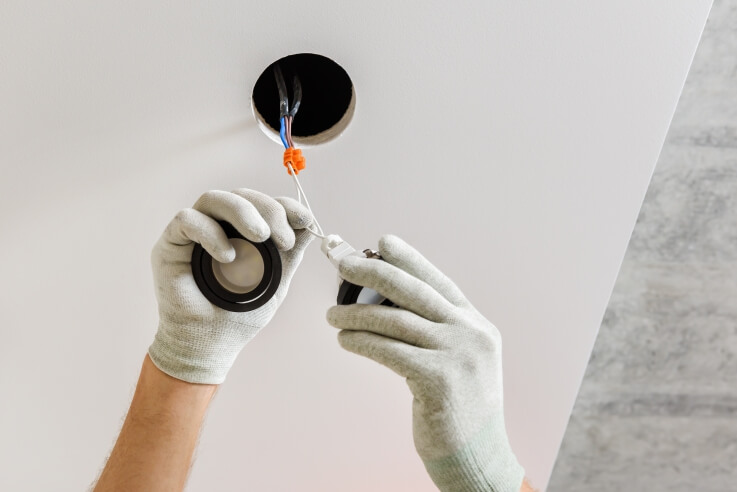 Residential Ceiling/Recessed Lighting and Electrical Services
No matter if you're building your new dream home or renovating an older property, interior lighting is a very important design consideration. There are several lighting options for homeowners to consider, depending on their situations. Proper lighting provides a refined ambiance and functionality to a home. If you've decided to install recessed lighting Florida Lighting Maintenance's Residential Electric can help you choose the right recessed lighting, and we have Central Florida's finest installation!
Recessed lighting is a great option for light where it's needed, without adding bulky hardware to your room. It can be a challenging job to install recessed lighting because it involves cutting ceiling holes, routing, or connecting electricity, and installing hardware. It's best to call our highly skilled electricians at Florida Lighting Maintenance Residential Electrical Services to get the job done right! Proper recessed lighting will make your room appear much larger, because hanging fixtures take up so much visual space.
There are essentially two types of recessed lighting. Standard recessed lighting uses an incandescent light bulb that is contained within the can of a recessed housing. They mount flush to your ceiling showing a little piece of trim surrounding the light bulb to add a proper finishing touch. The lights are non-directional lights but can be grouped together with others to make an improved and more well-lit environment. Contact our residential electrical pros at (941) 342-8980 for any information on standard recessed lighting.
The second type of recessed lighting is gimbal trim or gimbal lights, sometimes called adjustable recessed lighting. It's very similar to standard recessed lighting, but adjustable gimbals allow a range of motion not found in anything else. Directional gimbals use trim and housing for movement to any number of positions. If you're needing to highlight a certain design element in a room, directional recessed lighting is the best option. This way you use recessed lighting to overall light the room, but also to showcase a beautiful art collection at the same time.
Light-emitting diode (LED) lights have become very popular over the last decade for offering superior lighting, including for recessed lighting. LED lights are more energy efficient, environmentally friendly, and outperform all other lighting. Discuss with Florida Lighting Maintenance Residential Electric's specialists about switching your home over to LED lights! If you don't want to change your hardware, we can install LED light kits that will retrofit your space. This way you can insert LED bulbs into your original incandescent base to power the unit. We take the mystery out of recessed lighting and offer our customers real world solutions!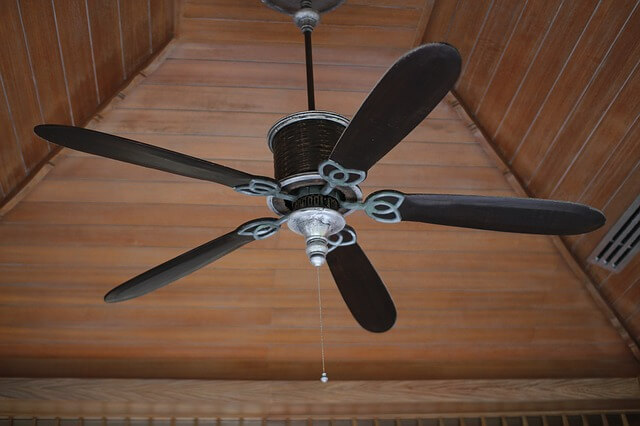 Residential Ceiling/Attic Fan Services
Ceiling fans have been around for decades, and provide homeowners circulated air and additional lighting in their rooms. Manufacturers over the years have worked in adding functionality and design, so that today ceiling fans have become a hard-working fashion piece in homes. When you need expert ceiling fan repairs and installation, contact Florida Lighting Maintenance Residential Electric. They can install any preferred style and design option ceiling fan you want. From 8 blades to single blade designs we can do it all. Call us at (941) 342-8980 for a FREE estimate or Click Here to leave us a message describing your needs and we'll contact you back quickly.
An attic fan installed by Florida Lighting Maintenance's Residential Electric pros will work with the homeowner's air conditioner and ceiling fans to keep things cooler during the hot summer months. Attic fans are incredibly efficient, because they use a fraction of the electricity your air conditioning system uses. They reduce the need for air conditioning, which lowers your monthly utility bills.
An attic fan allows our customers to enjoy lower temperatures in their homes by removing the hot air that sits at the top of the house. By doing those temperatures in the rooms below will be much lower. If you've ever climbed into the attic during the summertime, you quickly discovered that's where all the heat and humidity is located. An attic fan installed by Florida Lighting Maintenance Residential Electric will provide lower temperatures, eliminate mold growth, and give your roof a significantly longer life by having good ventilation and reduced humidity. Contact our specialists at (941) 342-8980 for a FREE consultation and estimate.
Residential Spa/Jacuzzi hook-ups and Electrical Services
Many homeowners don't realize that spa/jacuzzi electrical wiring isn't included in their tub purchase. That's why you need a professional electrical company to wire your hot tub and to get it up and running. Florida Lighting Maintenance's Residential Electric services is your complete source when electrically wiring your hot tub/spa to work correctly. Really, it's a safety concern for you, your friends, and your family to try to wire a spa/jacuzzi trying to "do it yourself" to save a few dollars.
Remember the old saying that "water and electricity don't ever mix." It's best to leave hot tub wiring to our professionals. Electric currents near water ultimately can cause shock and even death. Our experts at Florida Lighting Maintenance Residential Electric will provide you peace of mind knowing that no one is in danger of electrocution or shock while relaxing in your spa. Customers know that everything is electrically hooked up properly so that nothing inside or outside the hot tub or jacuzzi becomes damaged. Call us at (941) 342-8980 for a FREE estimate or Click Here to leave us a message describing your needs and we'll contact you back quickly.
Residential Flat Screen TV Installation and Services

Flat screen televisions are trendy and space-saving, and they also give your room a sleek look and enhances your overall viewing experience. While many people have the skills and confidence to handle TV mounting themselves, not everyone can do it like a trained professional can. Our Florida Lighting Maintenance Residential Electric specialists will expertly mount your new flat screen to perfection! They can provide the necessary drilling, measuring, and heavy lifting for you.
Florida Lighting Maintenance's Residential Electric will professionally mount your flat screen televisions to ensure years of reliable service and entertainment. Call us at (941) 342-8980 for more information and a FREE estimate!
There are several reasons why you should have our pros install your flat screen TV:
It won't be mounted crooked. Our TV mounting will ensure your flat screen is hung perfectly straight.
You'll get the right height. How high you have your TV hung is critically important. They must be hung at the viewer's eye level. But this also depends on the height of your chairs and how large the television is
You won't damage your wall. Even though televisions are much lighter these days, on average they still weigh 25-100 pounds. Any false moves could cause drywall damage.
You won't risk breaking your TV. While flat screens have gone down in price, it doesn't mean they're cheap. The last thing you want to hear is it crashing to the floor because of an incorrect mounting installation.
Residential Phone/Cable Line Services
If you need to install a new telephone line jack to a different part of the room or if your old one isn't working, call our experts to run wiring and install phone jacks to any location quickly and affordably. Maybe you want to install a new wall mounted telephone instead of a table/countertop one? Our Florida Lighting Maintenance Residential Electric pros will correctly position the phone jack to prevent unsightly wires across the room. With any phone line jack relocation, our staff will accurately determine the amount of new wire needed. If your new jack is positioned several feet from the old one, our crews can install fasteners to keep the wire in place along walls and baseboards.
Perhaps instead you need to run coaxial cable line to connect to a television in a different part of the house? Florida Lighting Maintenance's Residential Electric skilled technicians will run your new coaxial cable to the exact location requested. They'll expertly run cable under carpeting, inside walls, or even outdoors to the specifications requested.
Call us at (941) 342-8980 for a FREE estimate or Click Here to leave us a message describing your project and we'll contact you back quickly.
Residential Electrical Outlets/Additional Outlet Services
In most homes there are just not enough power outlets, or old ones have become damaged. That means homeowners usually turn to power strips to handle their phone charger, lamps, TV, laptop charger, and others. Always remember that electrical outlets can pose a safety risk. Your overloaded power outlet can trip a circuit breaker, increase your risk for electrocution, and even cause a fire. Products that generate heat, like toasters, crock pots, hair dryers, and even some lights, should always be plugged directly into the electrical outlet. They have too much power to use safely with power strips or extension cords. Short term they may be fine, but never on a long-term basis. The better idea is call Florida Lighting Maintenance Residential Electric to hire a professional electrician to install new power outlets, or to see if repairs are possible.
We offer Central Florida's most superior electrical outlet repair and electrical outlet installation. Whether you want to upgrade to smart outlets or install a brand-new circuits, Florida Lighting Maintenance Residential Electric have the knowledge and skill to get the job done correctly! Call us today at (941) 342-8980 to discuss how a professional outlet inspection, new installation, or electrical outlet repair allows homeowners to better handle their appliances, devices, and other electronics. You'll also have peace of mind knowing that your outlets will not cause a safety/fire hazard.
Residential Garage Electrical and Lighting Services
Florida Lighting Maintenance Residential Electric's pros have the best solutions for new garage lighting for both heated and non-heated garages. Garage lighting fixtures usually run on your home's main power and can be LED, incandescent, or fluorescent.
Fluorescent vs. LED: This really comes down to how cold your garage gets during the cold winter months. While LEDs work well in extreme cold, many fluorescent lights don't work below 50-degrees Fahrenheit. With the cost of LED lights coming down, it may be best to select LED for their superior lighting attributes.
Lumens: In selecting lights and fixtures Florida Lighting Maintenance Residential Electric's crews can help you determine how much light you'll need. Does the garage have windows? Will you be working into the dead of night? Therefore, new lights come with a lumen rating, which measures the total quantity of visible light emitted at a source per unit of time. The higher the lumen rating, the lighter it will display.
Strip Lighting vs. Bulbs: Another consideration for an older system or a new light install, is the type of fixture you want and if rewiring is required. Strip lighting come in a few different sizes and types of power, including ones that you just simply plug into an existing outlet. There's also LED bulbs that expand to offer strip lighting-type light, which usually saves you time and money. Traditional bulbs don't produce a lot of light, which is a good reason to changing over your existing lighting.
Recessed vs. Hanging vs. Mounted: Our garage lighting experts will skillfully mount whatever lighting you select. Recessed lighting is sometimes wise because they don't impact your garage's overall height. Hanging lighting is much easier to install. Light fixtures mounted directly to the ceiling hang down and may not work best with a shorter ceiling.
What Kind Of Ceiling Do You Have? Our crews also realize that the type of garage lighting you select may come down to the type of ceiling our customers have. On popcorn ceilings it is much tougher to mount anything to it. Is the homeowner's garage an unfinished garage with exposed studs? Or is the ceiling partially finished to allow the fixtures to mount onto or into? These are important questions our specialists can help you determine. Call us at (941) 342-8980 for a FREE estimate for your garage lighting. Click Here to leave us a message describing your needs and we'll contact you back quickly.
Florida Lighting Maintenance's Residential Electric division is highly skilled to solve any residential electrical and lighting needs you have, regardless of the difficulty! We also have services for home networking, ceiling/attic fans, spa/jacuzzi hook-ups, flat screen TV mounting, and phone/cable line installation. Our Florida Lighting Maintenance Residential Electric technicians understand all your systems and provide the right answers and solutions to prevent costly repairs down the road. Call us today for a FREE estimate and appointment, at (941) 342-8980. At FLM we protect our clients like no other residential electrical contractor!