Commercial Electrical Contractor for maintenance of Signs and Exterior and Interior Lighting Maintenance

Florida Lighting Maintenance is Florida's Lighting Maintenance and Commercial Electrical Contractor that can handle your Electrical and Lighting Sign Maintenance, Re-lamping and Ballast Programs.
Our well trained technicians are certified lighting experts.  These highly skilled experts never cut corners, and are on-time, fully equipped, courteous and provide fast service.When you demand the area's best Commercial Electrical and Lighting Service, contact Florida Lighting Maintenance and "Click" "Tell Us About Your Project".
Florida Lighting Maintenance has the following Lighting Maintenance Services:
Exterior and Interior Lighting Maintenance
Retrofit, Re-lamp, Ballast Programs
Light Fixture Cleaning
LED Lighting
Sign Lighting Maintenance
Energy Auditing

Commercial Lighting Maintenance Services – Group and Spot Re-Lamping Services: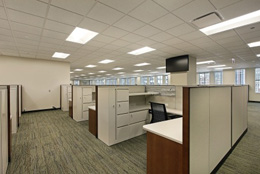 Facility managers understand that the second largest contributor to lighting costs besides electric consumption is the labor required to install new lamps.  Their hourly staffs (when you factor in salaries) changing one lamp or fixture at a time is extremely cost ineffective and time consuming.  A far better way is the economical implementation of a cost saving group re-lamp or regularly scheduled lighting maintenance program.  The experts at Florida Lighting Maintenance know how to manage your lighting issues, resulting in more dollars saved?
Group re-lamping is the most cost efficient method of keeping your facility's lighting system up.  The concept of group re-lamping consist of replacing all lamps in an area when they reach roughly 70 percent of their performance life.  Considering that it may cost 10 times more to replace lamps one at a time, it makes regularly scheduled group re-lamping a more viable practice.  Florida Lighting Maintenance has the area's best re-lamping services.  Call us today at (941) 342-8980 to discuss your particular lighting needs.
By contracting with Florida Lighting Maintenance for group re-lamping you'll discover other benefits.  Not only do you free up your maintenance staff to work on other things and you'll not have to worry about inventory.  During group re-lamping fixtures can be cleaned at the same time and new ballast can be incorporated.  We'll bring all the necessary specialized equipment such as ladders and scaffolding.  It may seem unwise to replace lamps when they're still bright and burning, but again it will be more cost effective in the long run to conduct group re-lamping.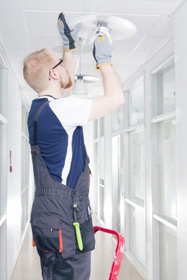 Florida Lighting Maintenance's group re-lamping offers more than just lower labor costs.  Lamp-storage costs are also reduced because the lamps are not part of any in-house inventory.  Facility managers also know in advance when an area will be re-lamped and can order new lamps to arrive just before the work is done, thereby reducing inventory costs. When the cost per lumen is optimal, managers will operate in a more cost-efficient range.  Group re-lamping also keeps your light at levels closer to required levels, promoting higher productivity and reduced fatigue due to stress. 
Our Florida Lighting Maintenance technicians can schedule re-lamping during off-hours to better prevent disruptions to normal facility operations.  All of our re-lamp techs are highly trained and skilled in understanding electricity as used on power-distribution systems.  They come to know all the different lamps and their applications.  Because technicians must lift heavy fixtures, climb ladders, operate lifts and work on scaffolds, considerable training is done prevent accidents from occurring. 
Group re-lamping done by Florida Lighting Maintenance requires our professionals to use hand and power tools, read instruments and to clean light fixtures.  Any of our re-lamping services also involves visual and operations inspections of breakers, fuses, switches and ballasts.  Besides replacing lamps, Florida Lighting Maintenance will move equipment for access and dispose of all old lamps and materials left behind.  Truly a win-win for facility managers!  Call Florida Lighting Maintenance to discuss your lighting maintenance needs at (941) 342-8980.

Commercial Lighting Maintenance Services – Ballast Programs: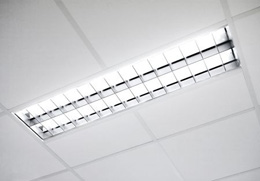 Most older lighting systems waste not only energy but dollars you can't spend elsewhere.  Florida Lighting Maintenance has the knowledge, top-notch lighting products and incentives you want when upgrading your lighting system.  It all adds up to drastically improving your lighting quality and energy efficiency.  Let the professionals at Florida Lighting Maintenance help you take advantage of new technology retrofitting capabilities.  It all begins by contacting us to schedule an energy audit of your facility.  The report will tell your current energy using numbers, and allow our experts to make recommendations for drastic improvement.
Light retrofitting is essentially the steps of auditing your old lighting systems and replacing electrical components such as magnetic ballasts and usually T-12 lamps, with energy efficient lighting components like electronic ballasts, T-8 lamps and reflectors.  Florida Lighting Maintenance can then achieve the proper combination of energy efficiency and maintenance efficiency of the "color rendering index."
By replacing your old fluorescent lighting to T-8, T-10 or other efficient lighting, you'll be amazed at how higher the light quality is and the reduced energy bills you'll pay.  A retrofitting program can be scheduled during routine re-lamping and cleaning work, or as part of a special one-time project.  Either way, Florida Lighting Maintenance guarantees that your ballast replacement changeover will be done expertly, on-time and with the least amount of disruption to your operations.   
When you make the decision to upgrade to high energy efficient lighting and controls, Florida Lighting Maintenance is the company to contact!  We offer the following retrofitting/ballast services:
Searching out incentives and rebates available for energy-saving installations/upgrades
Only using the industry's finest materials
Providing you at least a minimum 25 percent energy savings
Disposal of all removed products and materials
Post retrofitting inspections to make sure the system is functioning correctly
Some customers are happy to keep their current lighting system, but not happy with the efficiency being obtained.  Florida Lighting Maintenance has the answer to this by simply changing out your ballast components.  Our technicians use electronic ballast fluorescent fixtures (replacing magnetic ballast) with reflectors to use 40-70 percent less energy.  You'll be provided with greater color rendition, greater lumen maintenance and function eliminating the flicker and hum of magnetic ballast.  Electronic fluorescent fixtures have been rated to last 100,000 hours compared to 20,000 with alternative types.  Call Florida Lighting Maintenance to discuss your lighting maintenance needs at (941) 342-8980.
Florida Lighting Maintenance
Call us Now! (941) 342-8980