Electrical and Lighting Services Contractor for Construction and Remodeling Projects in Florida
Florida Lighting Maintenance is Florida's Superior Full-Service Commercial Electrical Contractor that many trust to handle a whole host of electrical installation, repair, maintenance and lighting electrical needs.
When you demand the area's best Commercial Electrical and Lighting Service, contact Florida Lighting Maintenance and "Click" "Tell Us About Your Project".
Florida Lighting Maintenance provides new installation and existing commercial electrical contracting.  Our pros make sure that your facility has state-of-the-art components, and will provide you with peace-of-mind for many years to come!  Licensed, bonded and insured, count on us to provide you professional electrical and lighting electrical services for just about any type building or facility.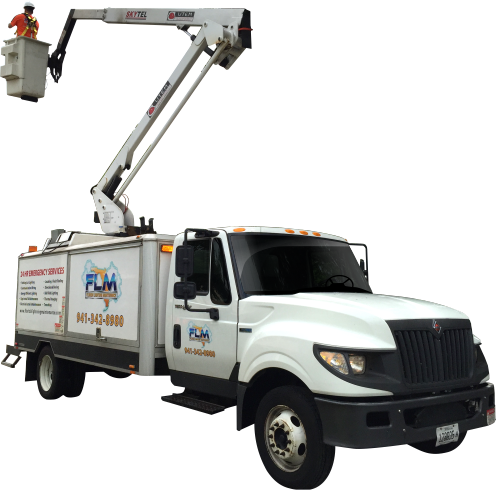 To make sure your electrical components and system are running at peak performance, Florida Lighting Maintenance's professionals provide top-of-the-line Electrical Services to keep you "humming" along.  Our techs are highly skilled at solving any electrical related issues, no matter how difficult they are.  They understand that an electrical issue can quickly happen, and often it will not give you any pre-warning.  This can easily escalate into extensive down-time to your commercial business, as well as an increased danger to your property.
Do You Need Emergency Service Now!
Emergency Electrical or Lighting Services, PUSH the Red Emergency Button or Contact our Emergency Number Now!, at (941) 504-2830.  We respond speedily to any difficulty, and quickly determine where the failure has happened and replace any parts to prevent lengthy downtime. 

Commercial Electrical Installation Services:
For all your electrical system and lighting installation needs, Florida Lighting Maintenance can design, build and install any type of electrical component required in your new or existing commercial facility.  Our licensed, bonded and insured professionals always install high efficiency equipment designed to be the most cost-effective on the market and customized to your particular building.  We only install the most reliable electrical and lighting systems for your needs.
We have Commercial Electrical Installation Services for the following:
New construction electrical wiring and components
Retrofitting and additions electrical and lighting
Build and tenant improvements
Tenant build out – office building
Lighting installation
Additional electrical circuits
Switchboard installation
Panel replacements
Power quality analysis and corrections
Code compliance audits and upgrades
Exterior lighting and landscape lighting systems
Our Commercial Electrical and Lighting Installation clients come from a variety of facility types:
Manufacturing
Industrial
Computer Rooms
Hospitals
Hotels
Retail
Warehouses
Design Build
Churches
Schools
Offices
Wire Termination for a Veeder-Root TLS-350 Automatic Tank Gauging System
Florida Lighting Maintenance's techs only install the industry's state-of-the-art products and equipment from the nation's most well known manufacturers.  We're committed to helping our customers be more "green friendly" by installing the most energy efficient equipment available.  This way, you not only help protect the environment, but save energy dollars along the way too!  Often there are tax incentives and rebates available for new electrical and lighting systems installations that give a fast return on investment. Contact Florida Lighting Maintenance and "Click" "Tell Us About Your Project".
Always count on Florida Lighting Maintenance for expert commercial electrical and lighting installation solutions.  We provide superior service and cost-effective remedies that fit all your needs.  Our pledge is to come in on-time and under-budget!  Call today for an estimate and join the hundreds of satisfied clients who have relied on us to deliver excellent installation results.

Commercial Electrical Maintenance Services:
Because of potential failures, we highly recommend regular electrical inspections to find trouble-spots and problems before they occur!  We have the right service maintenance plans to prevent costly accidents and resulting property damage.  And, these service plans can be easily scheduled to work around   your facility's operations.  Some of the electrical problems that Florida Lighting Maintenance tries to spot on existing commercial facilities are:
Faulty wiring
Improper electrical connections
Switchboards installed improperly
Inefficient lighting causing less light and higher energy costs
 
Electrical losses always top the list as the equipment area with the most premature breakdowns.  Florida Lighting Maintenance offers effective Electrical Preventive Maintenance (EPM) programs to help you avoid extra costs, facility disruptions and lost profits that result from electrical failures. 
Why do building managers and owners need an EPM program?
On average you can expect a minimum of six hours of interruption brought about by even the smallest electrical failure.
The average business usually sees a 1 percent to 4 percent savings in energy costs over a non-maintained system.
By implementing an EPM program you can reduce your risk of an unplanned outage by as much as 66 percent.
Electrical failures also mean your HVAC and lighting systems may not function. 

Our Florida Lighting Maintenance preventative maintenance programs also better prevent outages to these vital systems.
 
Our professionals can custom design an EPM program to best meet your needs.  Florida Lighting Maintenance's service contractors can evaluate your systems, estimate costs and the impact to your business.  When evaluating a system it becomes absolutely necessary to identify critical equipment areas.  Loss of main electrical service probably means everything shuts down.  Our experts have the know how to keep your operations running properly. When you demand the area's best commercial electrical services, Contact Florida Lighting Maintenance and "Click" "Tell Us About Your Project".
Additional Commercial Electrical and Lighting Services:
Bucket Truck Services/Parking Lot Lighting
Sports Lighting Repairs and New Installations
Sign Maintenance and New Installations
Underground Break Locating, Pole Installation and Repairs
Code Corrections
Commercial and Industrial Upgrades
24/7 Emergency Services
Violation Correction
Trouble Shooting
Cat 5 & 6 Installation
Computer and Communications Cabling
Control Work
UPS Systems
Generators
Lighting Design & Maintenance
New Outlet /Circuits
Parking Lot Lights
Power Distribution
Standby Power Systems
Transformers
Power and Control Systems
Switchgear Installation
Panel Design and Build
Institutional work in Hospitals, Labs, Schools, Etc
Plant Renovation
Electric Equipment, Motors, A/C & D/C
OSHA Safety Orientation & Training
Florida Lighting Maintenance
Call us Now! (941) 342-8980