Electrical Sign Pole and Lighting Maintenance, Installation and Repair Services Contractor in Florida
Florida Lighting Maintenance provides complete Sign Pole and Exterior Lighting Maintenance and Repairs.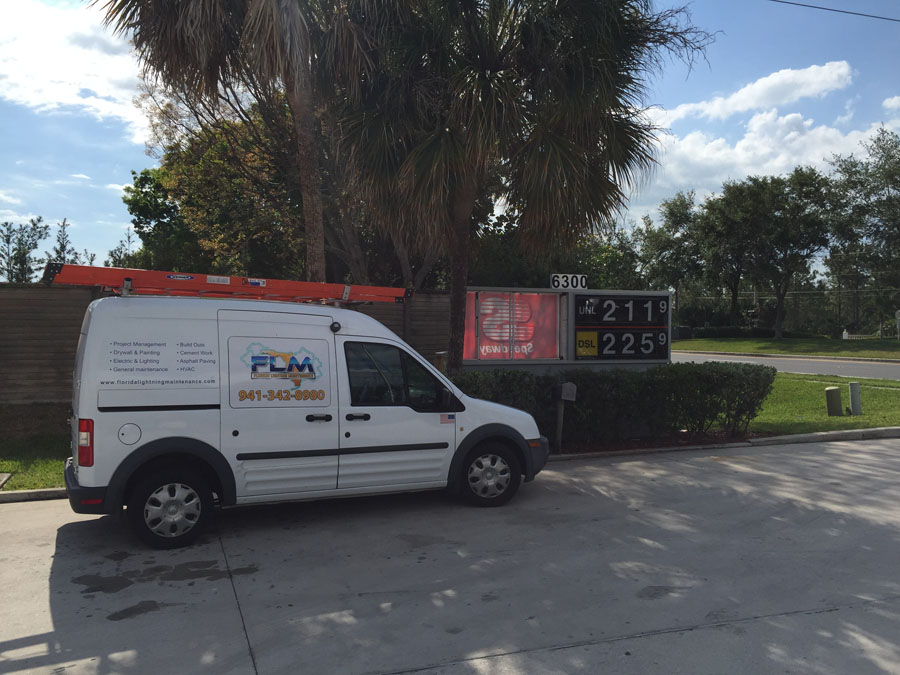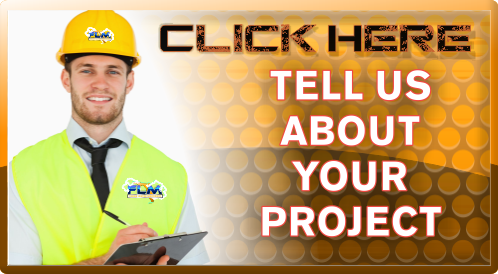 Florida Lighting Maintenance provides expert installation, maintenance and repair services for any type of sign pole lighting.  Whether it be design services, sign faces replacement, message centers or channel letters, we've got the fabrication capabilities and knowledge to get your sign pole lighting needs covered!  To discuss your project "Click" "Tell Us About Your Project".
 At Florida Lighting Maintenance our goal is to install, maintain and repair your sign poles and lighting properly every time.  We have a tremendous volume of return customers that come back time and time again.  Their trust and the friendships that we develop are important to us, and are proof of our success at providing quality workmanship.  You'll never feel alone as you venture down the road to having sign pole lighting functionality and performance.  We at Florida Lighting Maintenance guarantee your complete satisfaction.

Sign Pole and Lighting Pole Installation:
We're the area's number #1 rated source for any variety of sign pole lighting installation.  Our experts have complete design services and take your project through to installation and maintenance.  With Florida Lighting Maintenance you'll have satisfaction knowing your sign pole is code compliant, permit approved and properly vented with local regulatory offices.  Our turnkey sign pole services are totally managed by our professionals.  Their knowledge in design, surface types, fabrication, installation and maintenance are second to none.
Florida Lighting Maintenance's sign poles are made to be attractive structures that aesthetically blend into any desired environment.  Our proven reputation of engineering high quality commercial highway and other roadway sign poles is without question.  Call us at (941) 342-8980 to speak to one of our customer service representatives about your sign pole lighting needs. 
SIGN LETTERING AND UPGRADE
When your sign is in bad shape and you need to refurbish your sign, call us at (941) 342-8980 and let our Electrical and Lighting technicians help you restore your sign to like new.  Here we took down the signs and brought them back to the Office.  We replaced the letters and cleaned the sign parts and equipment, then we installed new ballast and lamps and reinstalled the sign.  So, when you have a sign on the building or a sign on the pole that needs repair or upgraded, Florida Lighting Maintenance is your sign and lighting expert.
Sign Lettering and Upgrade Before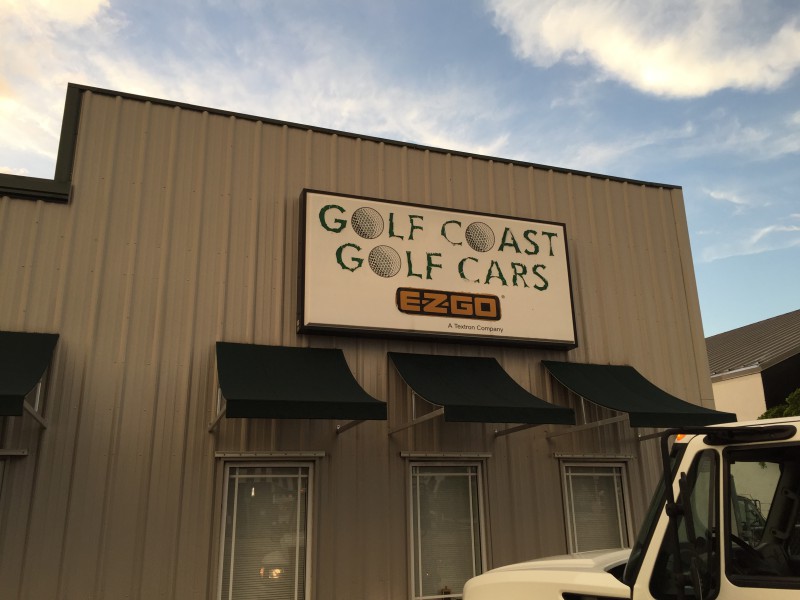 Sign Lettering and Upgrade Before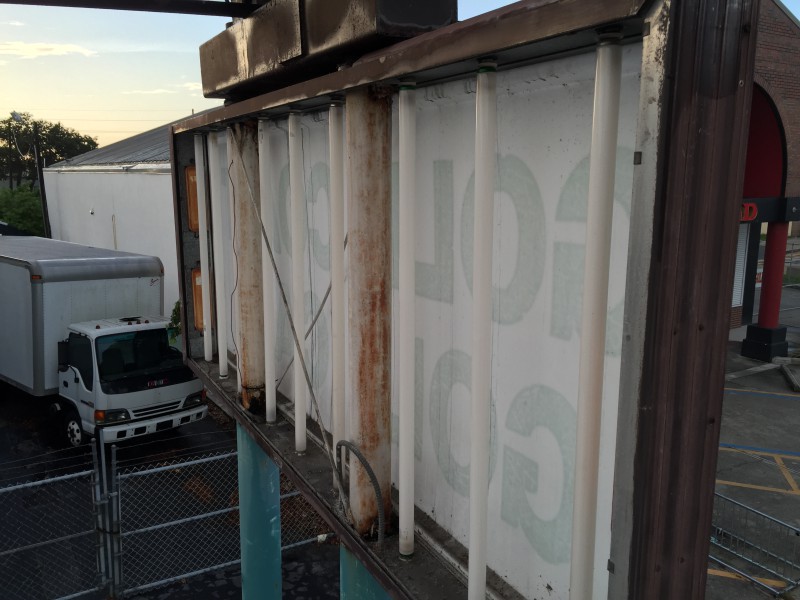 Sign Lettering and Upgrade Before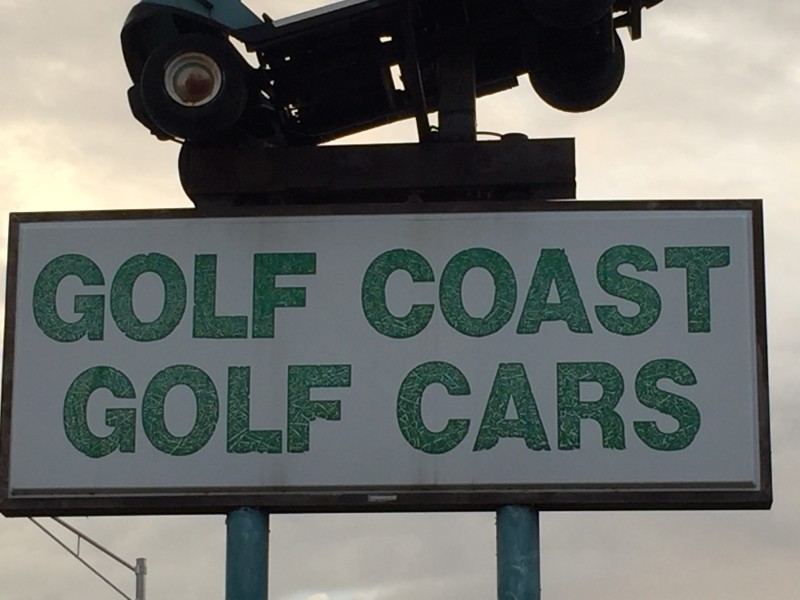 Sign Lettering and Upgrade Before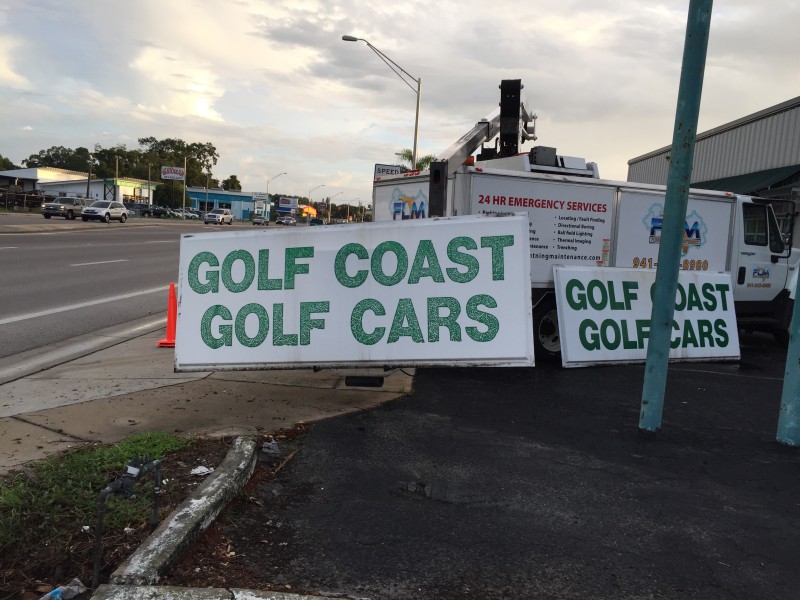 Sign Lettering and Upgrade After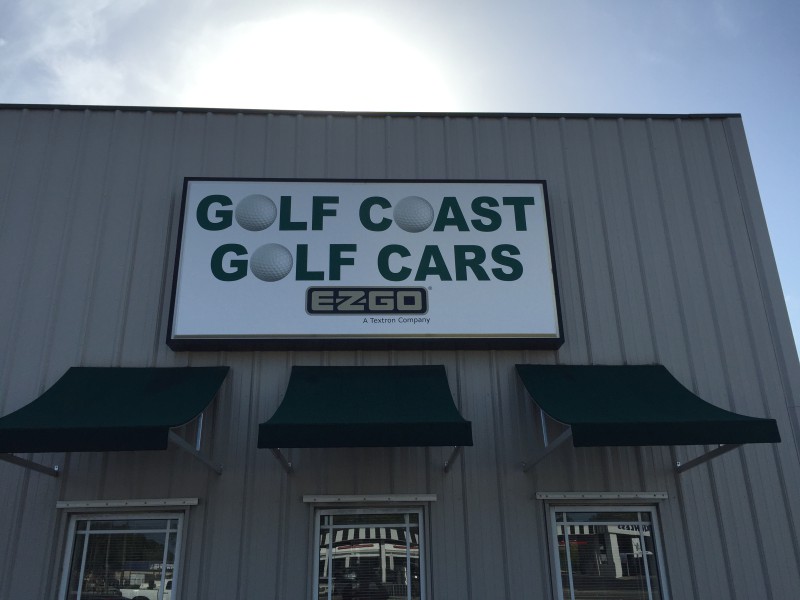 Sign Lettering and Upgrade After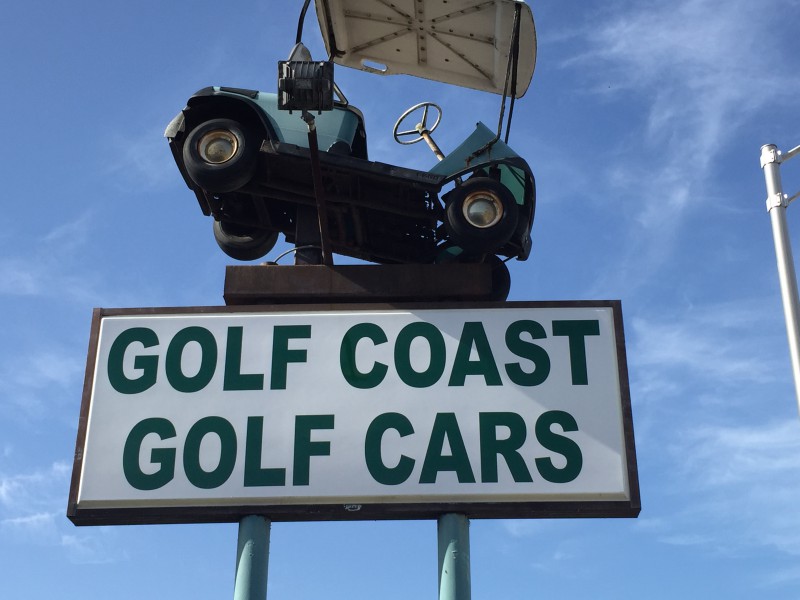 Sign Lettering and Upgrade After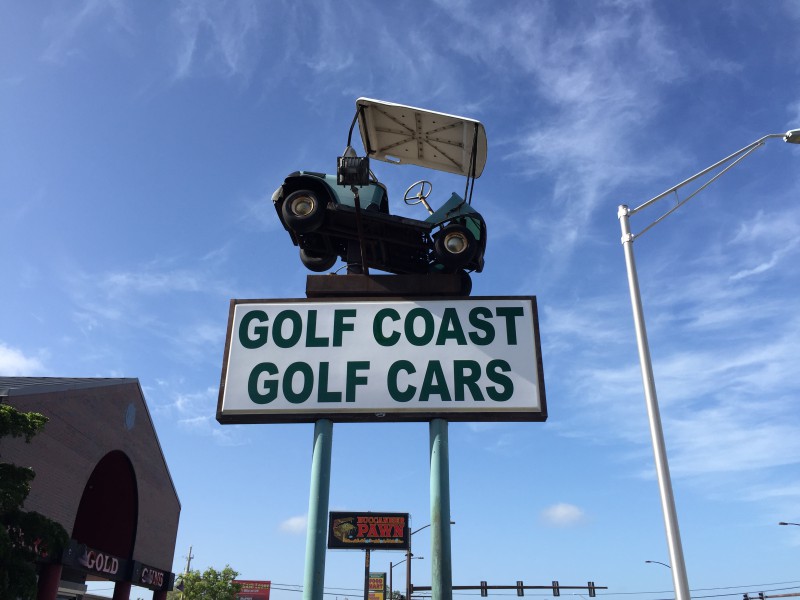 Sign Lettering and Upgrade After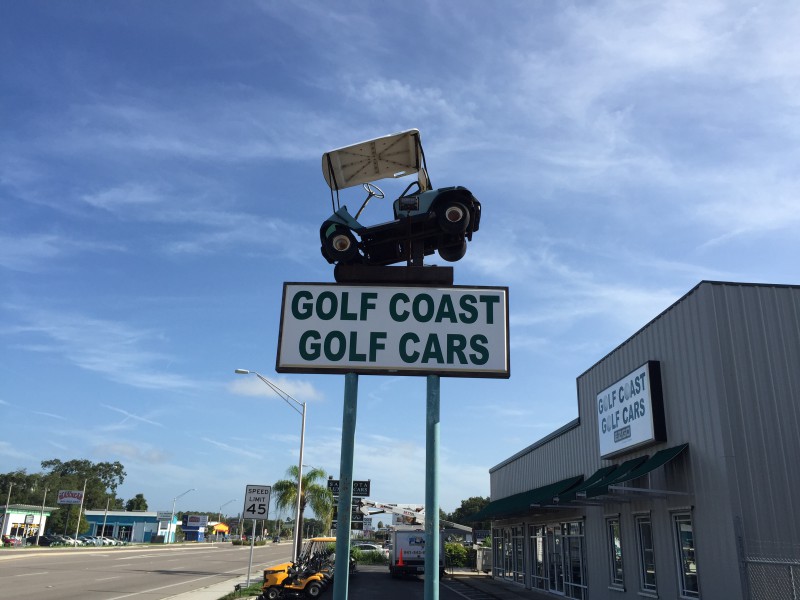 Our sign poles are built to be tough and provide years of reliable service.  Our technicians meticulously install them in order to provide optimal operations.  Florida Lighting Maintenance provides maintenance agreements that ensure that your sign poles are regularly inspected and checked for any trouble.  If repairs are needed we'll quickly make recommendations and offer replacement parts at some of the area's most competitive prices.  When an emergency situation arises you'll have access to our 24/7 emergency service, which offers rapid response and affordable repairs. 
Our professionals use all the top notch equipment available to install your sign poles.  They are licensed experts who are trained and experienced in solving the most difficult problems with every kind of sign, lighting and power systems.  Florida Lighting Maintenance even offers a variety of protective coatings to stave off unique damage that can occur to sign poles in a particular environment.  By applying protective coatings early, you can extend the service life and visual appeal of your structures. 
Florida Lighting Maintenance offers the following optional treatments:
V-Pro – Offers a barrier to corrosive elements.  Either powder or liquid coating are available in a broad range of general and custom colors
Anodizing – Specifically made for aluminum structure protection.  Anodizing provides an electrochemical process which transforms the metal surface into a durable, decorative, corrosion-resistant and anodic oxide surface
Galvanizing – Steel surfaces can receive a hot-dip galvanizing solution to prevent corrosion. 

Sign Pole and Lighting Maintenance:
Florida Lighting Maintenance offers the very finest sign pole lighting maintenance.  Several of our clients have chosen to implement our monthly maintenance agreement plan where we check your sign location each month to check for any outages and other damage.  This ensures that your business image is always top-notch, it saves you valuable staff time in having to check everything yourself, as well as to plan expenses in your budget to avoid surprises.  To discuss your project and to arrange a FREE estimate, call us at (941) 342-8980.
The sign pole experts as Florida Lighting Maintenance understand that your signage is actually the face of your business.  Its condition has a direct impact on how you are perceived by your customers and prospects.  We're committed to enhancing your business image by doing everything we can to keep your sign poles in tip-top shape.  We want this aspect of your business to never cause any concerns!  And, don't forget that Florida Lighting Maintenance provides emergency service and 24-hour repair response. 

Sign Pole Lighting Repairs:
The lighting professionals at Florida Lighting Maintenance have a proven record in making sign pole repairs.  All of our techs have the necessary experience, skill and equipment to successfully meet head-on any repairs you need.  No matter how big or small the sign pole repairs that are needed, Florida Lighting Maintenance responds professionally and successfully to any issues.  Give us a call today at (941) 342-8980 and discuss your sign pole needs.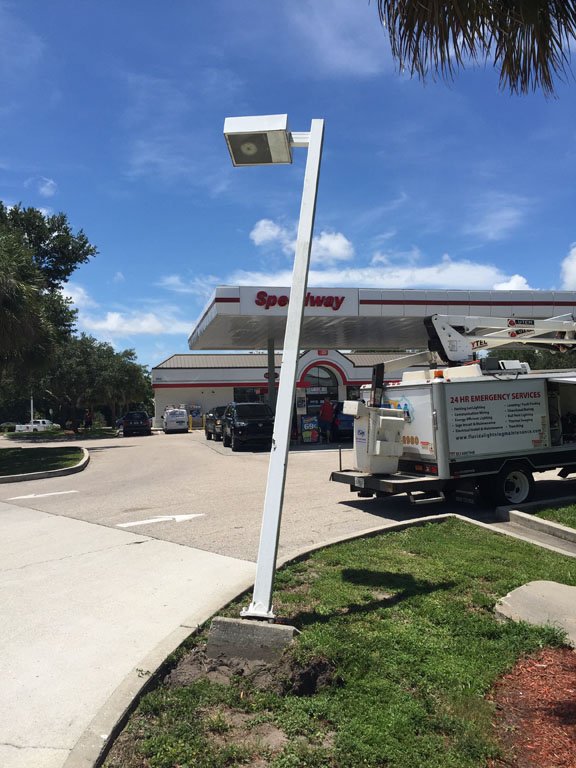 Car Hit Light Pole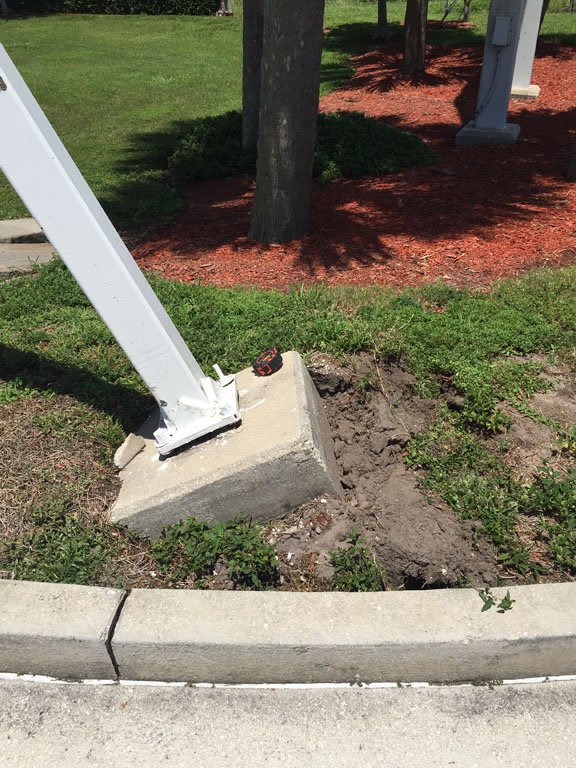 Pole Base Damaged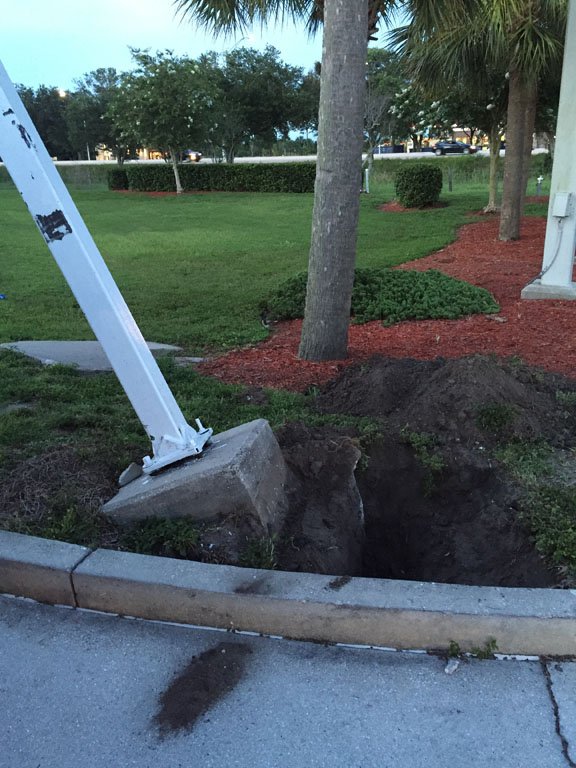 Pole During Repair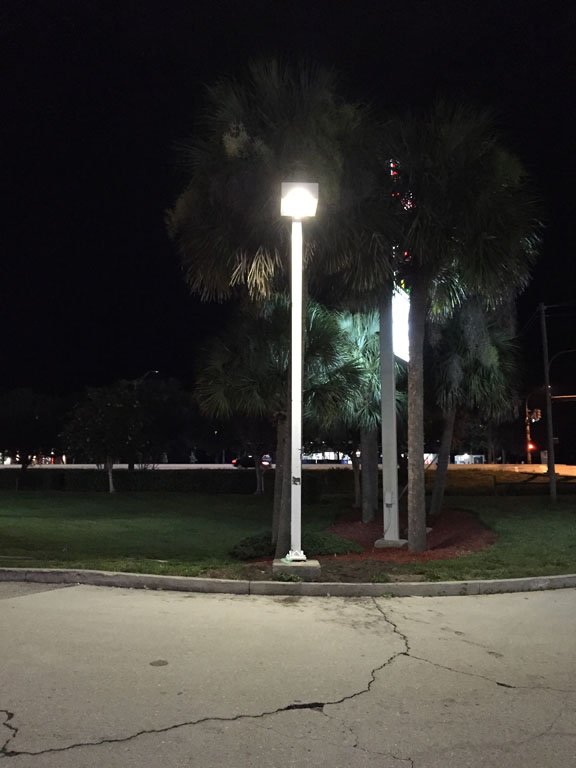 Pole After Repair
Our repair services include any surface and face repairs needed, sign vandalism solutions and sign pole lighting retrofits and updates.  There are now many energy conserving options available from which to choose from.  All designed to enhance your image, save money and to minimize unplanned outages.  We want your sign pole lighting to look great!
At Florida Lighting Maintenance, we have the knowledge, products, equipment, manpower and pricing to professionally install and maintain your sign pole projects.  Pole mount, ground or pedestal mount it doesn't matter, we get the job done right the first time!  To discuss your project "Click" "Tell Us About Your Project" or Call (941) 342-8980.
Florida Lighting Maintenance
Call us Now! (941) 342-8980